The Doctors
A Team Doctor is specifically chosen by the ownership and staff of a professional sports franchise to diagnose and care for their multi-million dollar athletes. These physicians were chosen because of their demonstrated expertise, respect from their fellow colleagues, and reputations as premier physicians within their communities.
All Team Doctors share one unifying mark of distinction: they are or were the team physicians of professional sports teams in the NFL, MLB, NBA, NHL or have distinguished themselves as recognized world authorities in their respective field.
TDPA is NOT an emergency service, but rather an extension of your own healthcare network that extends to the entire world when traveling.
---
The Network
TDPA's network starts with team physicians located in major cities across the country.  Each of these team physicians has their own circle of specialists that they work with on a continual basis (Tier Two).  This allows your Corporate Global Medical Director to have access to this same elite network that the owners of the professional sports teams use, creating a strategic healthcare team that can cover any medical situation at anytime, anywhere in the world.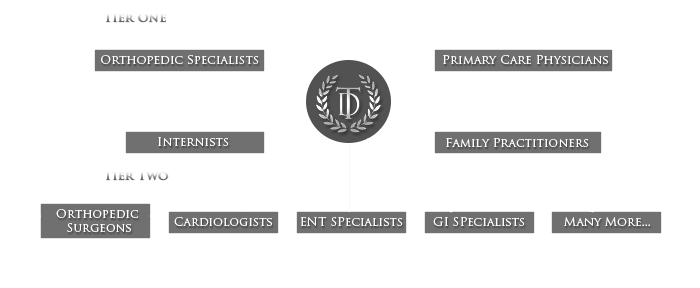 ---
In summary, The Team Doctors Network has the capability to go to the most respected physicians in each specialty, nationally and globally.  Anywhere anytime, Team Doctors is always there to assist you.
---